Who went on strike on 26th November?
The day of the nationwide strike of November 26 passed quickly. Pictures and reports of workers gathered in strike from place to place have appeared on facebook, whatsapp, etc. It is estimated that about 25 crore laborers participated in this strike. Whether this assumption is true or false cannot be said, but one thing is very clear – most workers who took part in the strike were permanent/unionised workmen. Bus workers, auto-taxi-drivers, coal miners, teachers, banks-insurance company workers, permanent workers of many factories, Anganwadi workers, cleaning workers – many such workers went on strike, judging by reports from all over the country.
Wait, so the temps did not strike?
Among all these things, one thing that was not found to be heard is that "temporary, contract, casual, daily wage laborers have gone on strike". And it is not just a one-time thing, it has come to be seen that usually the movement in permanent workers and the movement in temporary workers does not happen simultaneously, it happens very rarely, and it is only that permanent And the movements of temporary workers take different forms.
Strikes by permanent workers
First, consider that the past six months have seen a significant increase in churnings among permanent workers, especially in areas that are associated with any essential service or production. Many of them work for companies which are under government control, and in most the issue of wages or working conditions emerged.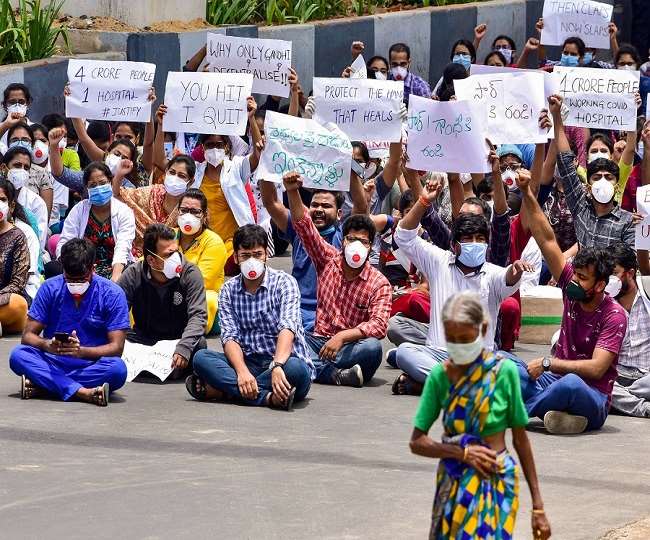 From the beginning of lockdown, there was a lot of protest and strikes by the doctors of government hospitals across country, including Marathwada, Hyderabad, Delhi, and other places.
From March to June, there were reports of not giving salaries to teachers in many states.
Strikes of sweepers and other municipal workers of Delhi, Ranchi, etc.
Strike of permanent workers of ordnance factories in September.
Strikes in Maharashtra, Karnataka, Uttar Pradesh and elsewhere on non-payment of transport workers (after the suicide of two workers in Maharashtra) from September to November.
The strike by Coal India workers started in many mines from July 2, which lasted for three days. The workers opposed the free marketing in coal. This strike was unsuccessful.
The indefinite strike of permanent workers on the issue of privatization of the Electricity Board in Uttar Pradesh, to which the electricity workers in some places of Maharashtra also expressed support by a one day strike. The government had to temporarily retreat.
Work stoppage in November over non-payment of salary by 1.25 lakh municipal workers in Delhi.
In response to the strike by the doctors of Bada Hindu Rao Hospital, Delhi, the government removed the hospital from the list of Covid centres operating in Delhi.
In November, due to increasing work and failure of talks, permanent workers of Toyota Kirloskar Bidadi (close to Bengaluru) stopped work. They manufacture SUVs. The management locked the factory initially, and later accused the workers of striking. The workers have not returned to work given the attitude of the management, despite directions from the state's Chief Minister. It has been 38 days and the strike has continued.
Temps strike work, but in their own time-zones
On the other hand, it was observed that the movement among temporary workers differed in time and space from that among the permanent ones.
In the month of April, a large section of temporary workers returned to their homes from cities across the country.
After the factories opened in May, the Bangalore Garments companies started the process of evacuating workers and stopping their buses. Many women temporary workers gathered on Mysore Road in early June.
On 22 June, the workers of Euro Garments Bengaluru demonstrated at the factory closure. HNM canceled the contract due to low demand.
From the beginning of June, there was talk of the possibility of non-payment and withdrawal of temporary teachers from places like Delhi, Uttar Pradesh, Karnataka etc.
Appointments on all government services were closed, and unemployed youth in Rajasthan, Uttar Pradesh, Bihar, Haryana, and other states took to rioting against these conditions.
In the month of September, on one hand the domestic tailors of Rayadurg (Andhra Pradesh) received no orders, on the other in October, 4000 women workers of Anantapur's Textile Industry Private Limited stopped the work demanding a minimum wage.
In November, again, the women of Anantapur's Indian Design Export stopped work demanding minimum wages.
After the permanent workers' strike in October, the temporary workers of the UP Electricity Board in November stopped work due to non-payment of wages since January.
On the occasion of Diwali, the Lakhani-Vardan Company of Faridabad gave only single bonus to the workers. 900 men and 800 women laborers working in the factory stopped work and sat inside the factory. The police came and was confused about who to talk to – no leader, no one came forward. Angry police and management people started threatening and grabbing anyone. After a long scuffle, the workers vacated the factory. The next day, workers stayed outside in the park in large numbers. The company was forced to pay them a double bonus.
Some lessons…..
Looking at these examples (we may have missed other incidents which did not make it to big news), some things become clear and some questions arise –
1. Both permanent and temporary employment have uncertain futures. In such a situation, how does the division of permanent and temporary remain intact?
2. Uncertainty will increase. Will the habit of separate struggles continue or is there a possibility of some synergy between permanent and temporary workers?
3. Unions have been calling for temporary workers to join their strikes, but have not been successful. This distance has increased further after the lockout and unemployment. Can temporary workers be legally considered part of the union? No. So can union calls be the basis for temporaries and permanents to join hands?
4. Due to recession and especially with the pandemic, the practice of making temporary workers produce has fallen like a house of cards. Now the companies running most of the basic services are running, the rest are mostly stalled. What expressions of discontent can arise from this reserve army of labour?